Thank you Cherokee county Deputy Rampley, Deputy Lowe and Deputy Driskell! Words can't express how thankful this mother was for the way you handled her daughter. You guys deserve a medal for your instincts on handling the child. You can be taught alot of things but, to be able to comfort a mother and child in that situation is a gift. Thank you from everyone!!
Media links telling her story
Click here Sue's story with Ross Cavitt "Lifetimes' next movie of the week"
The Power In Fear, The Power to Survive Click here to hear Verna's Story
CLICK HERE TO READ WSB's REVISED INTERVIEW ORIGINALLY DONE WITH CHRIS KROK
The next two links show what happened when a local mechanic took money from A Mothers Love!
Click here to see Dana Fowle in action as I team investigates!
Part two of Dana Fowle's Fox 5 I team investigation..who knew??
Click here for family photo gallery.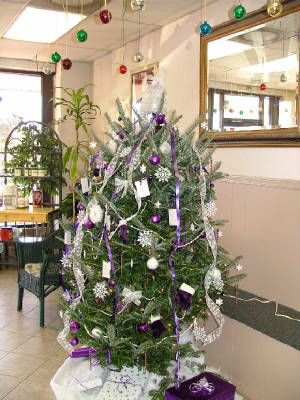 This tree was done in the ribbon colors for men and woman against violence.
The following links are from the beginning of her story.
Donations may be made at any Bank Of America under the name of A Mothers Love. You may also donate with paypal by clicking the Make Donation below. EIN number is available if needed. Thanks and God bless
To Donate by using Paypal please click on the donation link below. Thank you again for your prayers and your support.